Because cleaning up a very dirty industry doesn't have to cost the Earth…
By Rebecca Sellitti
When one thinks of the adult entertainment industry (and trust me, I try not to), generally the last thing that comes to mind is clean-living. I mean, pornography is an industry whose bread and butter consists of individuals engaging in the dirtiest acts of deviance one can imagine. (Too judgmental? Sorry, I'm Catholic…)
But, I can assure you that there are ways to make even a dirty industry like porn, just a bit cleaner. Not 'cleaner' as in ready for The Disney Channel, but 'cleaner' as in more eco conscious. So, even though all I know about porn is what I've learned from watching Boogie Nights, I've come up with some suggestions to help the adult entertainment industry green up their act…
---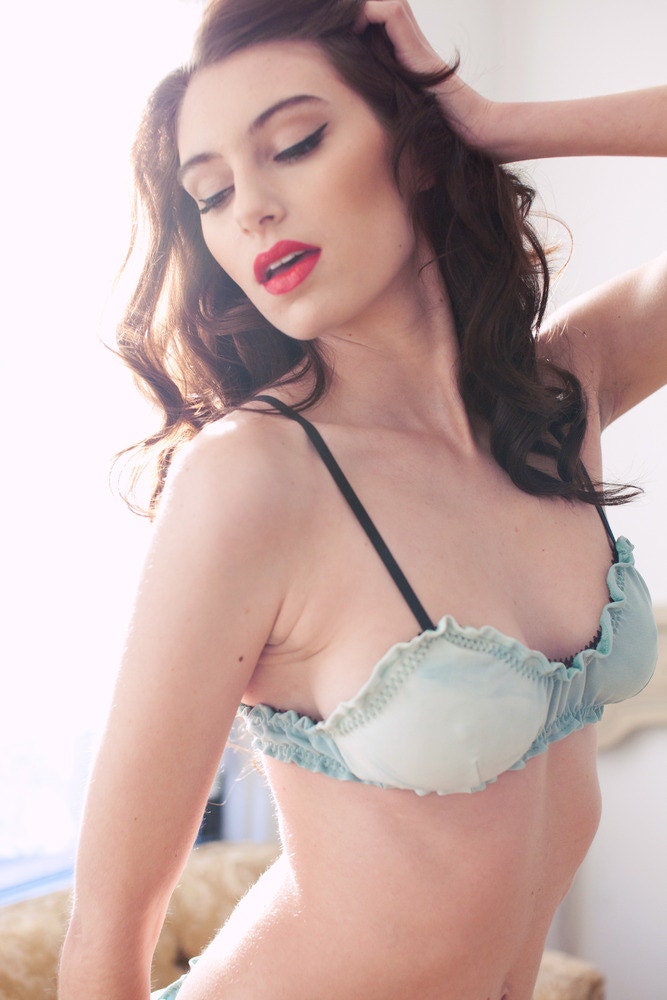 Green goods
Obviously, safe sex tops the priority list when making adult movies. So, I suggest using GLYDE Condoms, which are the world's only certified ethical and vegan rubbers. Not only are these PETA-endorsed love gloves free of any animal by-products, the natural rubber latex also happens to be sourced from Fair Trade facilities.
Since lubricant is something the industry uses by the gallon, Sliquid Organics is the way to go. This all-natural lubricant is made of totally organic ingredients and comes in 100% recyclable bottles, which is perfect for errr… getting it on.
I'm not entirely certain how much or how often clothes are worn in adult movies, but if sexy underwear is ever needed, put your 'actresses' in some Clare Bare Eco-Lingerie (pictured right), whose products are made from the vintage scraps of fabric.
---
Go bare in fresh air
Instead of shooting a scene in a shower, wasting gallons upon gallons of water, try shooting in a bath instead. Or at least use a low-flow shower head.
And instead of wasting electricity on the lighting necessary for an indoor shoot, why not film it au naturel in the great outdoors?
Use sunlight to illuminate those naked butts instead of those cellulite-revealing flood lights.
---
Keep it digital
Millions of pornographic DVDs are manufactured each year. That means tons of non-degradable plastic is being used to package cinematic masterpieces like Whorry Potter and Pulp Friction, all of it bound for the trash heap.
Enterprising companies like FleshDrive, however, have found a way to reduce the waste. The FleshDrive basically looks and acts the same way as a regular flash drive, allowing you to discretely purchase and download adult movies straight to your computer. No plastic DVD cases needed. FleshDrive allows men to help the planet while, err…, helping themselves.
The purpose of this article was to show that ANY industry can become more eco-friendly with just a little effort and imagination. I hope folks in the adult entertainment business really take up a few of these suggestions.
And for now we'll leave you with a Funny or Die video about green porn (Warning: it's pretty explicit so not  for sensitive eyes)…
Fancy writing for Global Cool just like Rebecca? Read on…
---
Here comes the science bit…
GC articles show you one of four ways (the one in bold) to live greener…
/ Be a winner (not a binner) /
/ Turn up the style (not the heat) /
/ Love the trend (not the spend) /
/ Do it in public (not the car/plane) /
---