Because spoiling your dad shouldn't have to cost the Earth…
It's Father's Day on Sunday June 16 (yes, that is next weekend) so we've found some gorgeous green gifts so you can show your pops how much you care…
---
Splash out on this Harry Check Shirt from People Tree. This lovely hand woven navy blue and white check long sleeved shirt is the perfect gift for a dad who cares about looking good.
And because it's from People Tree you know that with every beautiful purchase there's an equally beautiful change happening somewhere in the world. So your dad can look good and feel good knowing he's doing good for the planet.
---
Introducing Dirty Shaving Cream from Lush (we want to buy it for the name alone!) This soothing shave cream is full of oatmilk to cool and calm, safflower oil to moisturise without greasiness and honey for its soothing anti-bacterial effects.
Cedarwood, sandalwood and tonka essential oils will leave you smelling great without the sting!
---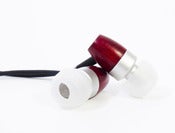 If you're old man is a bit of a gadget lover grab him a pair of thinksound™ rain headphones.  These powerful and comfy headphones are sweat proof so are great for wearing in the gym.
They're eco-friendly too (natch), and have been carefully made to deliver the best sound possible.
---
Geek Dad is a collection of "awesomely geeky projects and activities for dads and kids to share". It's a great collection of fun ideas that any nerdy dad will adore.
Learn how to fly a night-time kite ablaze with lights or launch a video camera with balloons. Construct the "Best Slip n' Slide Ever," or even build a working lamp with LEGO bricks and CDs!
---
Or really spoil him with this Expression portable DAB / FM stereo radio. It's a great mix of modern meets retro with stereo speakers for high quality sound. The Expression is eco-friendly too, with a built-in battery charger and up to 100 hours of battery life.
Whatever you choose to get your dad remember that the most important gift is your love so make sure you don't forget to give him a big old hug!
---
Here comes the science bit…
GC articles show you one way (the one in bold) to live greener…
/ Be a winner (not a binner) /
/ Turn up the style (not the heat) /
/ Love the trend (not the spend) /
/ Do it in public (not the car/plane) /
---
Main photo downloaded under a Creative Commons license from liquidskyarts. All other images from relative websites.